CNN really is the Clinton News Network — While digging around on
OpenSecrets
I pulled up the Hillary Clinton career donor list. Look who is #8 on that list. If anyone REALLY thinks they'll get real, true and fair news there — well, I hate to burst your bubble! In case you didn't know, Time Warner consists of three divisions; Home Box Office Inc. (HBO), Turner Broadcasting System, Inc., and Warner Bros.
Here's the screenshot. Good Ol' Time Warner right there! So it stands to reason, with the sizeable investments they have made in Hillary Clinton, they naturally want her to win. But, the list gets even better… keep reading below.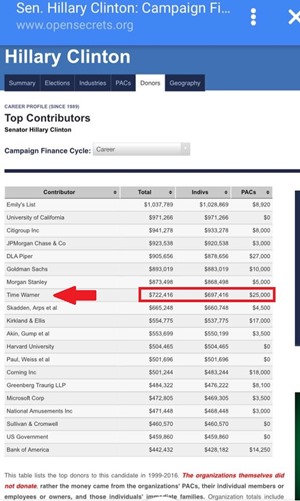 Since the primaries ended, it's become more than obvious to me that CNN stood in strong support of Donald Trump early on because they wanted him to get the nomination thinking he was the one Hillary could actually beat.
Once I began digging into the
funding and sponsorships of Hillary
, I kept digging deeper
into the contributions she has received during
this 2016 election cycle
.
Here is a list of her donors, the dollar amounts she has received followed by information on who those donors are and how much they have contributed to the elites of Washington DC.
Gayla – follow me
@Gayla